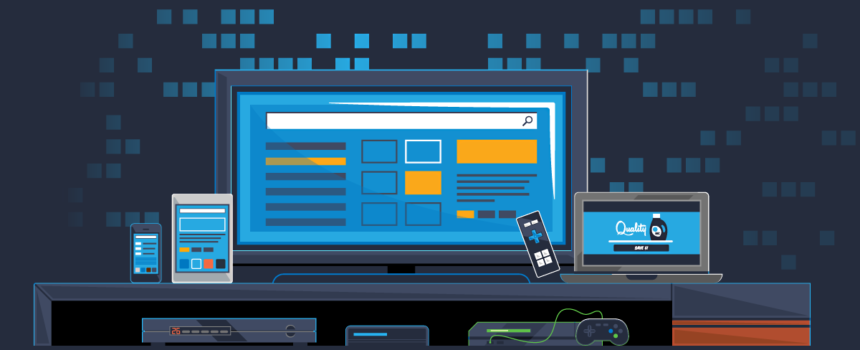 Ed Kim, VP Strategy
With the fall TV season fast approaching, it will be interesting to see what new trends and preferences emerge in consumer viewing habits. The TV industry has seen so much exciting change over the past few years, opening new doors for advertisers and creating more choice than ever before.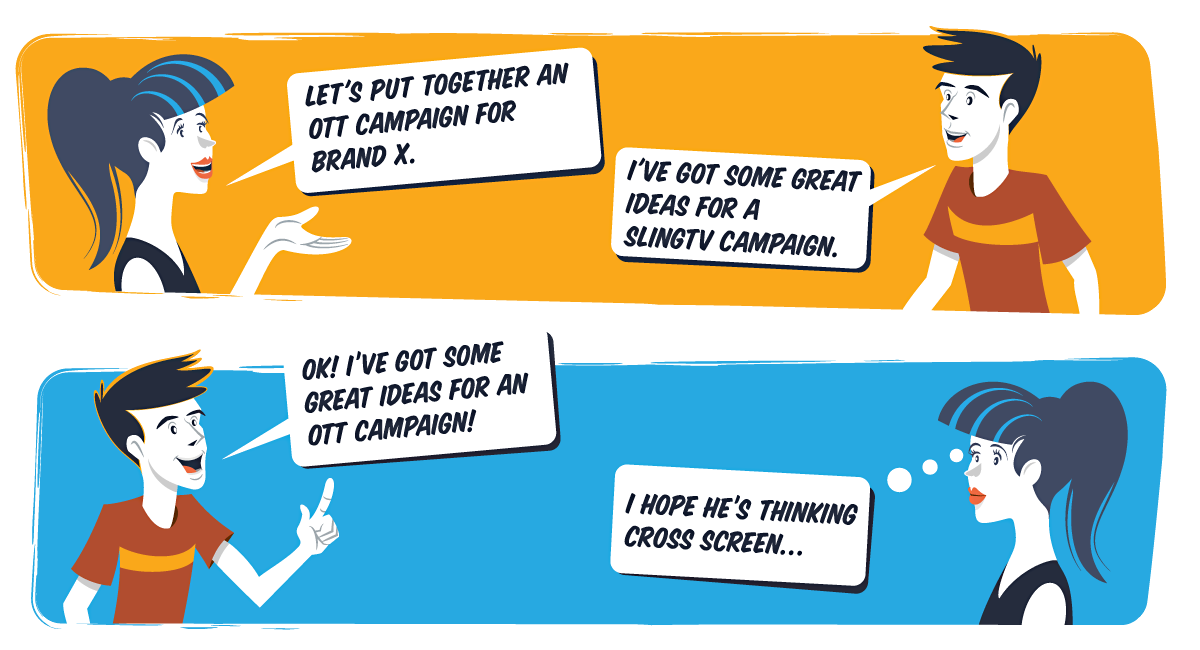 The new ecosystem that has emerged to support demand for more viewing choices has brought along with it a myriad of new terms—many of them fluid and not well defined. As I sit down to write this blog post, I've just read two opposing definitions of OTT—both by well-respected organizations. As a result of the rapid change in this industry, sometimes it seems as if we're speaking in completely different languages. In this post, I'll define some of the more fluid and commonly misunderstood terms being used in the TV industry today, to help clear up some confusion and get us speaking the same language.
Let's first start with the oldest and broadest term: TV/television. The definition of TV has perhaps changed the most drastically from its inception, once referring solely to the set in your living room. We now consider television to be a device and also to be premium long-form content, regardless of how it's consumed. Now, whether it's streamed on a Roku stick, on Hulu.com, via the NBC app, set-top-box or a new way that's created tomorrow… it's all TV (content).
From there, we group TV content delivery into two buckets—linear TV and advanced TV:
Linear TV
Linear TV is what we all considered to be TV for the majority of our lives: live video delivered over-the-air or traditional pay TV services, viewed on a television set.
With the invention of Digital Video Recorder (DVR) and TiVo in the late 90s and a slew of new technologies aimed at tackling the issue of ad-skipping, linear TV has evolved to linear + time shifted TV.

Advanced TV
The second major category, advanced TV, is a broad category that includes data-driven linear TV, addressable TV, over-the-top (OTT) and connected TV (CTV). This bucket is constantly growing and changing as new technologies enter the scene, and it's possible that new categories could disrupt the ecosystem in the near future.
Keep in mind, commercial load (i.e. the amount of commercial time per hour) will be different for each platform. In the past, commercial load was consistent because the industry operated on a linear TV platform; with today's advanced TV ecosystem, this looks very different. For example: ABC's Grey's Anatomy may have a different commercial load when watched on live TV, the ABC app on a Roku stick or on Hulu. And let's not forget that you can watch past seasons of the show ad-free on Netflix. Don't worry, I'll explain the difference in those platforms and devices as the article goes on.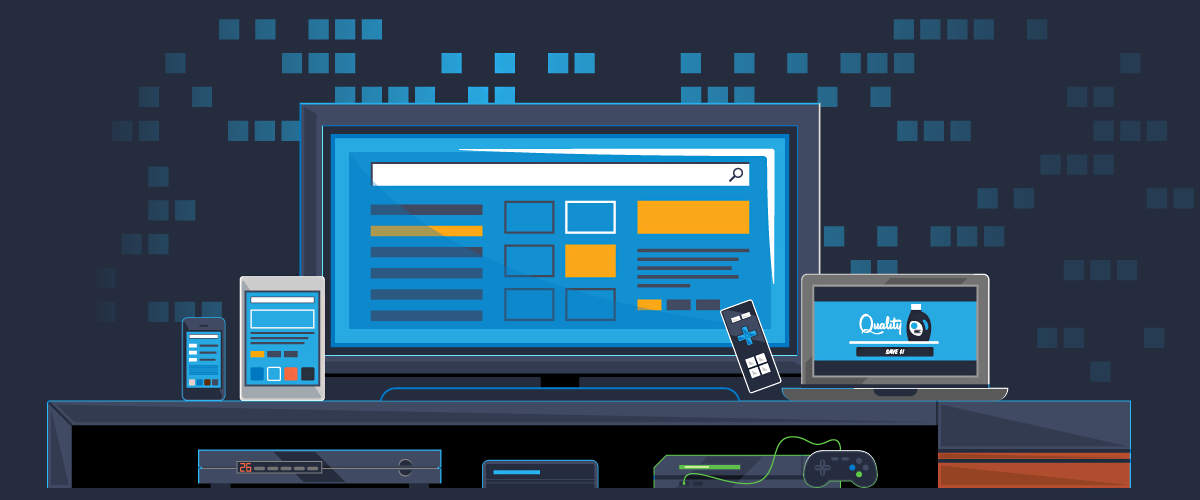 Now let's dive into the advanced TV landscape today:
Data-Driven Linear TV
Data-driven linear TV allows advertisers to deliver audience-based advertising (building on traditional demo-based delivery with purchase and other data types) via linear television.
Many networks have built their own platforms to enable this, individually or in collaboration with each other. The primary companies and organizations that enable data-driven linear TV are: A+E Networks Precision, AMC Networks Agility, Audience Studio by NBCU, clypd, CBS DnA, Discovery Engage, Disney Luminate, FOX Audience Insights Manager, OpenAP, Simulmedia's VAMOS, Turner Ignite, Univision's Aperture and Viacom Vantage.

Addressable TV
The next major category, addressable TV, refers to the ability to selectively segment TV audiences and serve household-specific advertising (regardless of programming or daypart), through cable, satellite and internet delivery systems and set-top boxes. This category has evolved far from the numbers game of 2013 and 2014, when we were all on the edge of our seats waiting for more addressable households to become available. The primary companies that enable addressable TV (also known as multichannel video programming distributors or MVPDs) are: altice, Comcast, DirectTV, Dish, Fios by Verizon and Spectrum Reach.
The two newest entrants onto the scene are over-the-top (OTT) and connected TV (CTV). Oftentimes they get combined together, but here I'll try to draw some lines of distinction. This is a perfect example of two places where the definitions are still very much evolving.
Over-the-Top (OTT)
OTT refers to premium long-form video content that is streamed over the internet across any app or website which may or may not require users to subscribe to a traditional pay-TV service. OTT content can be accessed via streaming service aggregators (like Hulu), a standalone app (like ABC's), a virtual MVPD (like SlingTV) on a TV, desktop, tablet or smartphone. Sometimes OTT is referred to as digital video, but digital video is too broad of a definition since it does not distinguish video content as premium, professionally-produced long-form vs. free short-form video content. The four main streaming companies account for 80% of OTT volume: Amazon (app or website), Hulu (app), Netflix (app or website) and YouTube Premium (app or website).

Virtual Multichannel Video Programming Distributors (vMVPDs)
Virtual Multichannel Video Programming Distributors (vMVPDs) aggregate live and on-demand linear TV but deliver the content over the internet and fall under the OTT category. The major vMVPDs are: DirectTV Now, Fubo, Hulu Live TV, Philo, PlayStation Vue, Pluto TV, slingTV, Tubi and YouTube TV.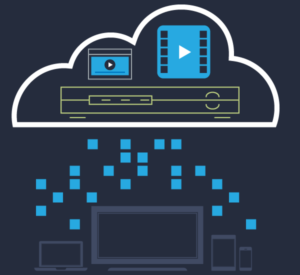 Connected TV (CTV)
Connected TV refers to a TV set that's connected to the internet, which includes Smart TVs and other internet-enabled devices like
Blu-Ray, gaming consoles or internet streaming video players. The primary players in the Connected TV space are smart TV manufacturers—LG, Samsung, Sony and Vizio—and streaming devices such as: AmazonfireTV, Apple TV, Chromecast, PlayStation, Roku, Tivo, Wii and XBox.
When you think about how we're defining OTT and CTV, it may at first sound like there is some crossover. And there is. So to help clarify: the Roku Channel app would be considered OTT, but the Roku stick would create a connected TV. Or the Netflix app would be considered OTT even if it's used via your Apple TV (CTV). And if you're watching your favorite TV show or Hulu's The Handmaid's Tale on a laptop or smartphone, it's OTT every time. Another big differentiator is that most OTT services are ad-supported and most connected TV devices are not…for now.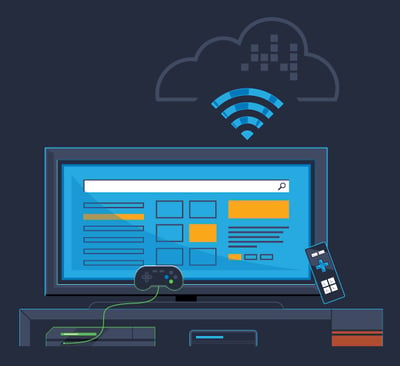 ---
Now that you've spent 10 minutes reading about how the Advanced TV space is being defined today, does it even matter? The answer is YES. That matters, because it's impossible to plan and budget for advertising without being on the same page. But that's a topic for another day.
To learn more about how we can help you reach the right audience regardless of how they watch TV, and measure the sales resulting from our advertising check out this case study and email hello@ncsolutions.com