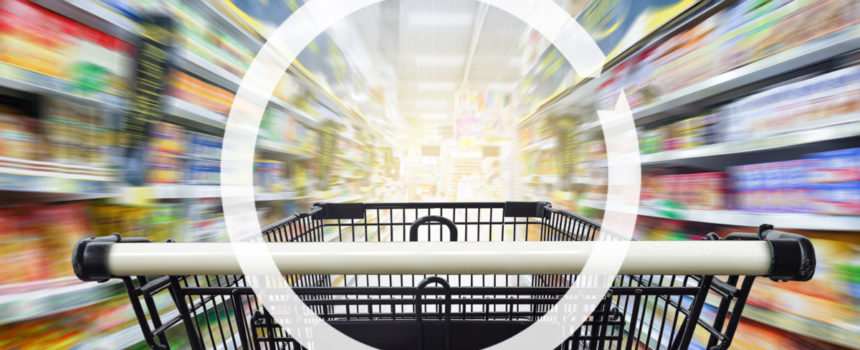 By Dwayne Flood, Director, Retailer Data Partnerships, NCSolutions
How can grocery retailers adapt to consumers' changing buying behaviors?
What new digital tactics and strategies will build shopper loyalty?
How can grocery marketers and brands communicate the right message to the right consumer faster?
What does the future hold for the relationship between brands and grocers in an age of disruption?
These questions were top of mind as I arrived in Las Vegas for Groceryshop. It's a safe bet the CEOs and senior executives of retailers and brands are wondering about these topics too. We're all eager to hear what the speakers and our networks have to say.
If I were a betting person (and I just might be), I'd place my bets on data, personalization strategies and agile marketing strategies. I also believe there are emerging opportunities for retailers and brands to extend their relationship in new ways.
Retailers are standing on the edge of unprecedented disruption. I've no doubt they're ready to seize the latest innovations and technologies to reshape the future of the industry.
Bet # 1: Adapting to changes in consumer buying behavior
It's no secret that consumers want to buy what they want, when they want – in the most convenient way possible. To reach consumers with the right message just at the point of a purchase decision, brand marketers need retailer data on consumer purchase behavior to develop more effective advertising strategies and drive more shoppers into grocery stores.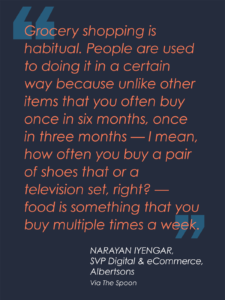 And as Narayan Iyengar, SVP Digital & eCommerce, Albertsons, recently told the Spoon, grocery shopping is habitual. "People are used to doing it in a certain way because unlike other items that you often buy once in six months, once in three months — I mean, how often you buy a pair of shoes that or a television set, right? — food is something that you buy multiple times a week. You keep running out of milk or eggs or other things and end up going to grocery store and reordering very, very frequently. So the entire chain, both the interface as well as the delivery system, lends itself very well to habit formation."
Purchase data provides insights into those consumer patterns and helps shine a light into future trends.
Bet #2: Personalization
Building on those purchase habits, brands can build personalization into their advertising strategies. As more retailers build out their e-commerce strategies with robust websites, they (and the advertisers they serve) can benefit from more targeted brand campaigns.
For example, Raley's is now delivering a personalized, time-saving digital shopping experience through its website. Mike Molitor, Raley's Vice President, eCommerce & Loyalty, recently told Retail Leader that the grocery recognizes the changing needs of its customers, both online and in-store. "Our goal is to make it easier and more compelling for customers to interact with online shopping and our savings program, Something Extra."
Bet #3: Agile marketing
With more competition and disruptive technologies, brand and grocery marketers also need to be more agile. Once a digital advertising campaign is in-flight, they can gain a distinct advantage
if they have the ability to pivot to the channels or creative driving the strongest results.
"The biggest challenge today is the speed at which you can make changes in your media or communications to get better results," Charlie Chappell, Head of Media & Comms Planning, The Hershey Company, told the ANA in March. "That is faster than marketers used to act. That's a big change in marketing muscles. I'm impressed at how many challenger brands are leveraging this to drive rapid growth while traditional brands struggle."
Bet #4: Brand and grocery retailer relationship
Disruption will also have a lasting impact on the relationship between brands and retailers. Will we see more partnerships? What can retailers do to help brands reach and target the right customers at the right time in the purchase cycle? How can brands reach different buyer types? How can brands help drive more consumers into grocery stores?
As technology helps brand marketers become more efficient and effective at targeting the right consumers and influencing decisions, retailer data will be the fuel that drives incremental sales.
---