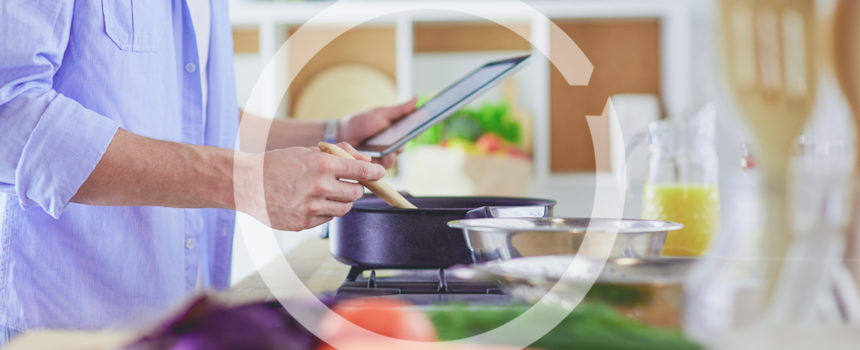 Though gatherings will be smaller this year, one quarter of U.S. consumers plan to spend the same or more this Thanksgiving compared to last year, and many Americans across the nation will be cooking Thanksgiving dinner for the first time ever.
Given the nation's newfound obsession with cooking (grocery spend was up 27% in October year-over-year), as well as a greater number of Thanksgiving tables to outfit, we thought it was only appropriate to gather a cornucopia of favorite recipes from our team—to help out those first-time Thanksgiving chefs. We've also included a recipe for effective advertising–so you can drive sales this holiday season and beyond.
Wishing you and yours a happy and healthy Thanksgiving,
The NCS Team


Linda's Squash Casserole
Origins: This is an old Southern recipe that I've doctored over the years.
Ingredients
4 cups sliced yellow squash
1 cups chopped onion
1 small red bell pepper, diced
2 eggs
1/2 cup milk
1 cup grated cheddar cheese
12-15 "buttery" crackers — or anything that will add some crunch for the topping — mashed
Salt and pepper to taste

Directions
Butter a casserole dish.

Simmer squash and onions together on a stove in a pot of water until tender. Drain aggressively*. Mash cooked squash and onion mixture.

Add diced red pepper.

Beat eggs and milk together and add to the squash mixture. Add salt and pepper.

In a separate bowl, mix the cheese and cracker crumbs together. Place half the crumbs into the squash mixture and stir. Pour the squash mixture into the buttered casserole dish.

Place the remaining crumbs on top of the casserole.

Bake at 400 degrees for 20 minutes or until bubbling.
*I put the cooked squash/onion mixture in a sieve, place in the sink and use a spoon to add pressure. If you don't drain the mixture well the casserole will be watery — not good!
Serves 6.
Bob's Cornbread and Sausage Dressing
As much as I'd like to take credit for this recipe, I can't. I found it in the "Food" section of the Chicago Tribune years ago and have made a couple very minor tweaks. It's been the "go-to dressing" since the first time it was served.
Ingredients:
1 stick (½ cup) butter
2 ribs celery, chopped
1 medium onion, chopped
1 tablespoon herbes de Provence (This is the special ingredient)
8 ounces ground pork sausage
8 slices white day-old bread, cubed
1 8-inch square day-old corn bread, crumbled
1 can (14 ounces) chicken broth
½ tablespoon salt
Freshly ground pepper

Directions:
Heat oven to 375 degrees. Melt the butter in a skillet over medium heat. Add the celery, onion and herbes de Provence. Cook, stirring frequently until vegetables are tender, about 5 minutes. Transfer mixture to a large mixing bowl.

Add sausage to the skillet. Cook, breaking it up with a spoon until meat browns. Add sausage and breads to the large mixing bowl, containing the celery, onion and herbes de Provence. Toss thoroughly, adding the chicken broth as needed to hold it together. (I always end up using all of the broth.) Season with salt and pepper.

Transfer mixture to a buttered 2-quart baking dish. Bake until heated through and brown on top, about 20 minutes.
Becky's Corn Pudding
Some people call it Corn Pudding, some call it Corn Casserole, I call it delicious!
Ingredients
½ cup melted butter or margarine
2 eggs whisked together
8 oz can whole kernel corn
8 oz can creamed corn
8 oz sour cream
1 package Jiffy corn muffin mix

Directions
Preheat oven to 350 degrees.

Mix butter, corn, creamed corn, sour cream and muffin mix together in a medium bowl.

Add eggs and mix together.

Pour into 1 ½ qt casserole dish and bake for 50-60 minutes until set.
Maris' Squash Potage

Borrowed/adapted from The Angelica Home Kitchen cookbook
Ingredients
2 tbsp olive oil
1 onion, coarsely chopped
1 teaspoon sea salt
1 tablespoon fresh ginger, peeled and minced
1 cinnamon stick
3 cloves of garlic
6 leaves of fresh sage, minced
½ cup apple cider
3 lbs butternut squash (or winter squash of your choosing) peeled, seeded, and chopped into 1-inch chunks
½ cup peeled, coarsely chopped carrots
4 cups water or veggie stock (I like to use 2 cups of each)
Sea salt and ground black pepper to taste
Greek yogurt (optional)

Directions
Warm olive oil over medium heat in a large stockpot. Add onions and 1 tsp salt and sweat, stirring occasionally, for 10 minutes.

Add ginger, cinnamon, garlic and sage (reserve some sage for garnish) and continue to stir and cook for 5 minutes. Stir in apple cider and bring to a boil.

Add squash, carrots, 4 cups of water/stock, and bring to a boil. Lower heat, cover, and let simmer for 20 minutes.

Remove cinnamon stick and puree with immersion blender directly in pot (or pour into regular blender and place back in pot once blended).

Add more cider, salt, and pepper to taste.

Serve hot, with a dollop of Greek yogurt and a sprinkle of chopped sage, black pepper, salt, and roasted squash seeds*.
*Bonus: I liked to pick through the squash guts for the seeds, toss with a drizzle of olive oil and sprinkle of salt, and roast the seeds on a sheet pan 375 for 15 minutes until they're nice and toasted.
Deirdre's Cranberry-Pomegranate Relish
(Adapted from the Food Network)
Ingredients
1 pound cranberries (thawed if frozen)
1/3 cup sugar
3 tablespoons honey
1/2 cup pomegranate seeds
1/4 cup chopped fresh mint
1/4 cup chopped fresh parsley
2 teaspoon pomegranate molasses
Kosher salt

Directions
Combine the cranberries, sugar and honey in a food processor and pulse until finely chopped. Transfer to a bowl.

Add the pomegranate seeds, mint, parsley, pomegranate molasses and a pinch of salt to the cranberries and toss. Let stand 2 hours or refrigerate overnight.
Dwayne's Deep Fried Turkey
Ingredients
Turkey fryer
Fire extinguisher (just in case)
1 whole turkey, neck and giblets removed
3 ½ gallons of peanut or vegetable oil for frying
1 tablespoon salt
1 tablespoon ground black pepper
Additional seasoning to preference

Directions
Season turkey overnight with salt, pepper, and seasoning of choice.

Ensure fryer is placed outdoors, on dirt or pavement, far away from buildings.

Add oil to turkey fryer, heating to 350 degrees F (175 degrees C).

Place turkey into the drain basket, neck-side first. Gently lower basket into hot oil so turkey is completely covered.

Fry turkey for 3 minutes per pound.

Carefully remove basket from oil, and insert a meat thermometer into the thickest part of the thigh; the internal temperature must be 180 degrees F (80 degrees C).

Remove turkey from the oil and allow to rest for 15 minutes before slicing.
Um, Um, Good!
Deirdre's Brown Sugar Pie
Borrowed from The Southern Lady Cooks

Ingredients
1 1/2 cups brown sugar
2 tablespoons all-purpose flour
2 eggs
4 tablespoons butter or margarine, melted
1/2 cup milk
1/4 teaspoon lemon extract
1 (9 inch) pie crust, unbaked

Directions
Combine all ingredients and mix well with a wire whisk.

Pour into unbaked pie shell.

Bake in preheated 350 degree oven for 50 to 55 minutes. Pie will rise up while cooking and later after it comes out of the oven will go back down.

Add some whipped cream or ice cream and ENJOY!
NCS's Recipe for Effective Advertising
Ingredients
Consumer centricity
Compelling creative
The right media outlets
Responsive audiences
Specific campaign goals
The right measurement tools
Flexibility
Adaptive spirit

Directions
Combine all ingredients into a bowl and mix well.

Choose a

purchased-based target

to reach desired buyers.

Add target to mixture, and launch campaign.

Taste mixture,

optimize and

adjust seasoning as needed.

Pour mixture into baking dish, and bake at 360 degrees for a week.

Remove from oven, and taste to

measure

consumer response and

sales

performance.

Adjust creative seasoning and targeting as needed.

Repeat until just right and desired sales are reached.
To see what Americans plan to cook this Thanksgiving, and how to drive sales this holiday and beyond, download our 2020 CPG Advertiser's Recipe for Thanksgiving.
---