Know the Impact of Your TV & Video Ads on Every Screen
The AMC Networks & PepsiCo: A Case Study
NCS Cross-Screen Sales Measurement for TV and Video enables advertisers to measure the in-store sales impact of campaigns. This holistic approach is what PepsiCo (brand Mountain Dew) and AMC Networks recently leveraged to understand the impact of their TV and digital The Walking Dead sponsorship.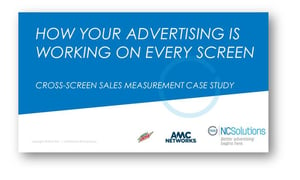 You will learn:
Insights and results from the Moutain Dew and AMC Networks The Walking Dead campaign
Best practices for cross-screen TV and video measurement
More details on the cross-screen sales effect measurement available from NCS
Download The Case Study!
Download the case study to learn more about the campaign, the measurement, and the sales impact.